Reading
"Once you learn to read, you will be forever free." — Frederick Douglass
In this school, education is about learners experiencing the joy of discovery, solving problems, being creative in writing, art, music, developing their self-confidence as learners and maturing socially and emotionally. Learners do better when they are excited and engaged; when there is joy in what they are doing, they learn to love learning. Taken from: Moving English Forward, 2012 p.36. OFSTED
The same applies to reading. We feel all aspects of the reading programme - reading aloud, shared, whole class, group and independent reading and the systematic teaching of phonics, spelling and etymology should all be enjoyable.
We promote enjoyment and engagement through the creative use of high quality literature at the heart of the literacy curriculum, using the Power of Reading programme, developing teaching and learning strategies to support engagement with books and attainment in reading. All classes have access to class 'core texts' which are read and discussed, and these core texts regularly provide the stimulus for writing. The love of reading is the culture we strive for in every area of the reading curriculum and children engage with different texts individually, in groups and as a whole class daily.
Teachers are encouraged to think about themselves as reading role models – 'Teachers who read and readers who teach'. All staff promote books and reading and are committed to developing the reading environments in school. We as a school are thinking further developing the reading opportunities of our children to enable them to develop their independence and read widely for purpose and pleasure across the curriculum, and in and out of school. This is in the process of being developed and as a school, six members of staff attend a 'Reading for Pleasure' (Open University) group held at a local book shop, 'Moon Lane Books'.
Our School Library
In our school we believe that every student has the right to learn to read and to love reading. We believe that without reading, their chances in life are narrowed and their experience of life is restricted. Due to this, we are committed to constantly improving our teaching of reading. We encourage the children to read for pleasure as much as possible!
At St John's, we believe that all children should have access to the best books, both at school and at home. In 2018, we raised £20,000 to fill our new school library with brand new books for the children to enjoy. This has revolutionised reading in our school! The children love the library space and are desperate to spend as much time in there as possible reading and selecting texts.
Early Reading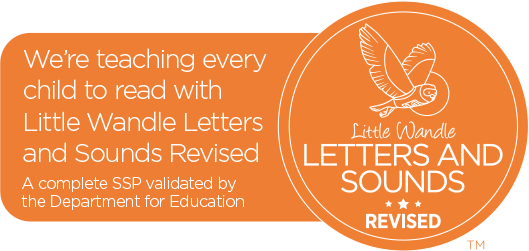 At St John's, Phonics is taught systematically from Reception through to Year 1, with Year 2 continuing Stage 5. We follow the 'Letters and Sounds' programme and progression. In Reception and Year 1, all children read 1:1 with an adult each week, reading phonically decodable books. In Year 1, there is class guided reading in addition to the 1:1 reading.
Use this video guide for parents and carers to help with the correct pronunciation of the sounds:
Reading for pleasure is also celebrated in EYFS and KS1, and all children can also take home a book from the school library to enjoy at home with their family.
Any children who are still finding reading challenging in Year 2 or in KS2 receive additonal intervention in order for the gaps to be filled. These interventions are led by one of our TAs, who is trained, or by our SENCO.
Independent Reading, Reading for Pleasure and Story Time
At St John's, we believe that one of the most important parts of the school day is 'story time'. Every day, all of the classes enjoy a story being read to them before they go home at the end of the day. Children love the process of choosing a story, or continuing the story that they have been reading together. In addition to this, all children enjoy choosing a book of their own choosing and the library provides them with high-quality texts for them to choose from. All children at St John's enjoy picture books, whatever their age, and there are lots of complex picture books to choose from. We also have a good selection of early reader stories, graphic novels and non-fiction texts, which are all extremely popular.
Home support is the key to future success and we encourage you to read with and to your child daily. Reading aloud to a child should not stop at a certain age – it is always beneficial for them!
Click on the image below to read the BBC Bitesize guide for parents and carers to support reading at home:
Volunteers
St John's has a long history of parents and Governors volunteering to read with children. The role was really personified by Arthur Newton, a former long-standing Governor and friend of the school for many years. There is a reading area in the school dedicated to Arthur and the children can still enjoy reading in this space.
We are always happy to welcome new parents or Governors to our group of vounteers; please do get in touch with the school office if this is something you could offer, even if it is only an hour a week.